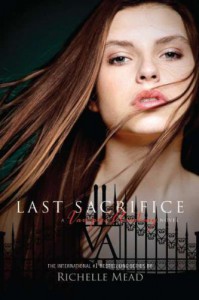 I absolutely LOVED, ADORED, LOST SLEEP, over this series. I wasn't sure if I would like them at first, but OMG!!!! Best books ever! No one can compare to Dimitri and sad as I was for Adrian... What can I say, TEAM DIMITRI ALL THE WAY!!! The ending was maybe a little too happily ever after, but I certainly DID NOT CARE!!!
Books like these inspire me to keep writing little things here and there. :D
I will definately be reading Bloodlines.
Good job Miss Mead!
*******************************
Okay so I read it again! GAH! Still in love :) Totally funny how there are some things left unanswered that are completely obvious lead ins to Bloodlines... :) ahhhh.... I really want to know more about Lissa's role as Queen in the end, like what will happen! And just everything :) Does make me a little sad to think that Dimitri is in The Golden Lily, therefore away from Rose, but shit happens ;)
Everything is awesome. I love this world so so much. I really shouldn't write reviews straight after finishing the book... They fail to make much sense :)